Today we got the sad news of Robin Williams death. Everybody is talking about it, and we are still getting a lot of last minute information, comments, emotions… in many different sites and of course social media.
To try to measure the buzz of this event on Twitter, I modified a Shiny application of Vivek Patil . The application is running in the IBM Bluemix platform. For this I the application is running R code to do the analysis. It is all deployed in IBM Bluemix and you can access here:
To run R code you can use the following Custom Buildpack that I modified so it is running R 3.1  –> https://github.com/aruizga7/cf-buildpack-r
In the application you will find WordClouds, Measurements of the probability of receiving a tweets talking about Robin Williams, measurement of the sentiment of the tweets using the tm package in R…
Thanks to IBM Bluemix I distributed the application Worldwide in seconds.
Distribution delay between tweets talking about #RobinWilliams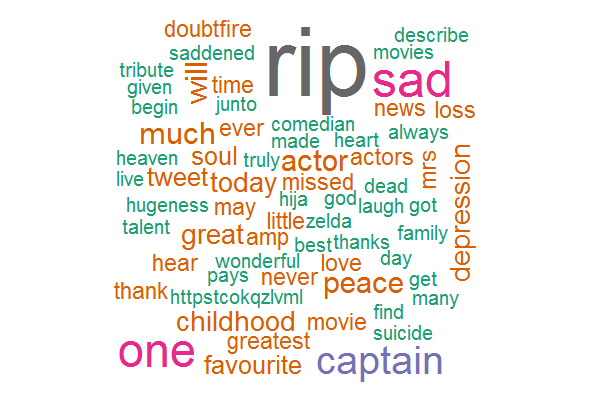 Sentiment on Twitter about #RobinWilliams

Here is how some celebrities are remembering Williams:
I could not be more stunned by the loss of Robin Williams, mensch, great talent, acting partner, genuine soul.

— Steve Martin (@SteveMartinToGo) agosto 11, 2014
Robin Williams made the world laugh & think. I will remember & honor that. A great man, artist and friend. I will miss him beyond measure.

— Kevin Spacey (@KevinSpacey) agosto 12, 2014
"Robin Williams was an airman, a doctor, a genie, a nanny … and everything in between. But he was one of a kind." —President Obama

— Barack Obama (@BarackObama) agosto 12, 2014
Dificult to believe Robin Williams is gone. So many childhood memories… from Hook to Mrs. Doubtfire. pic.twitter.com/TJ5HwNDCTZ

— Brodie Brazil (@brodiebrazilCSN) agosto 11, 2014